GardePro trail cameras are an excellent tool for capturing wildlife in their natural habitat. However, taking high-quality photos with a GardePro trail camera requires more than just setting it up and hoping for the best. Here are some tips for capturing better GardePro trail cameras photos:
Choose the Right Location
①Look for signs of wildlife activity: Before setting up your GardePro trail camera, take a walk around the area and look for signs of wildlife activity such as tracks, droppings, and feeding areas. This will give you an idea of the type of animals that frequent the area and where they are most likely to travel.
②Choose a high-traffic area: Look for areas that have a lot of wildlife activity, such as a game trail, a watering hole, or a feeding area. These areas will increase your chances of capturing images or footage of animals.
③Check for obstructions: Make sure there are no obstructions in front of the GardePro trail camera that could block the view or trigger false readings. This includes vegetation, branches, and other obstacles.
④Choose a secure location: Make sure your GardePro trail camera is located in a secure location where it won't be easily tampered with or stolen. You can use a security box or cable lock to help protect your camera.
⑤Test the GardePro trail camera: Before leaving the camera in place, test it to make sure it's working properly and capturing the images or footage you want.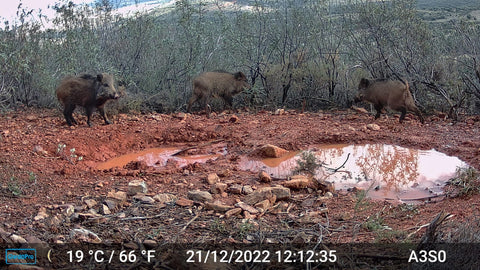 Set the Right Angle
Once you've found the perfect location for your GardePro trail camera, make sure it's level and pointing in the right direction. A slight tilt can make a big difference in the quality of your photos. As mentioned earlier, it's best to set the GardePro trail camera up at a 45-degree angle to the trail. This will capture the animal's full body as it approaches and give you a better chance of getting a clear, detailed shot.
Use the Right Settings
GardePro trail cameras have a variety of settings that can be adjusted, such as the shutter speed, ISO, and flash. Experiment with different settings to find what works best for your location and the type of animals you want to capture.
For example, if you're taking photos of nocturnal animals, you'll need to use a higher ISO and longer shutter speed to capture enough light. If you're taking photos of animals in motion, such as birds or deer, use a faster shutter speed to freeze the action. If you're taking photos at night, make sure to use the GardePro trail camera's flash to illuminate the subject.
Keep it Clean
Dirt, dust, and spider webs can all interfere with the GardePro trail camera's lens and reduce the quality of your photos. Make sure to clean the GardePro trail camera lens and surrounding area regularly. Use a microfiber cloth to wipe away any dirt or debris and a small brush to remove spider webs or cobwebs. It's also essential to keep the camera itself clean and free from moisture. Use a waterproof housing or cover to protect the camera from rain, snow, or humidity.
Check Your Batteries
Always check your GardePro trail camera's batteries before setting it up. It's also a good idea to bring extra batteries with you in case they run out while you're away. Lithium batteries are often preferred because they last longer and can withstand extreme temperatures.
It's also a good idea to check the camera's SD card to ensure it has enough space to store all your photos. If necessary, delete any old or unnecessary files to free up space.
Be Patient
Capturing good trail camera photos requires patience. It may take several days or even weeks to capture the perfect shot, so don't be discouraged if you don't see any activity right away. Remember that animals are often wary of new objects in their environment, so it may take some time for them to get used to the camera's presence.
To increase your chances of capturing good photos, consider leaving the GardePro trail camera in place for several weeks or even months. This will allow the animals to become accustomed to the camera and behave more naturally in front of it.
Review and Edit
Once you've captured some photos, take the time to review and edit them. Crop, resize, and adjust the brightness and contrast as needed to enhance the image's quality. You can use photo editing software or even the built-in editing tools on your phone or computer.
It's also essential to keep track of the time and date each photo was taken. This information can be useful for tracking animal behavior and identifying specific individuals or patterns.
Conclusion
Capturing high-quality GardePro trail camera photos requires careful planning, attention to detail, and a bit of patience. By choosing the right location, setting the GardePro trail camera up correctly, using the right settings, and keeping everything clean and well-maintained, you can significantly improve your chances of capturing stunning wildlife photos.
Remember to be patient and allow the animals to become accustomed to the camera's presence. And don't forget to review and edit your photos to enhance their quality and gather useful information.
With these tips, you'll be well on your way to capturing amazing GardePro trail camera photos that you can be proud of.
In addition to the above tips, a good trail camera is also crucial. Here I will introduce to you a GardePro trail camera that can meet most requirements and is affordable.
GardePro A3S Trail Camera, 32MP 1296p Game Camera with Clear 100ft No Glow Night Vision, Fast 0.1s Trigger Speed Motion Activated Waterproof, H.264 MP4 Video
                                                                               (Order now on Shopify and get 10% off)
The GardePro A3 Series trail cameras are engineered to resolve bad experience on night vision such as over-exposure and under-exposure (over-dimmed) issue on the conventional trail cams. And it is equipped with a SONY Starvis sensor, advanced optics, well-designed infrared LEDs and smart imaging technology to produce ultra-clear images.
[Excellent Night Vision] The A3S cam is equipped with a Sony Starvis image sensor and new-generation no-glow (black) infrared LEDs, combined to deliver crisp, clear images up to 100ft at night, perfect for stealth.
[Enhanced 32MP Image] The camera features a premium optical lens and state-of-the-art image sensor, with exclusive image quality tuning to capture more vivid images.
[HD H.264 Video] The camera records high-clarity 1080p or 1296p video, equipped with an advanced microphone for incredibly clear sound recording, providing an immersive wildlife experience.
[Fast 0.1s Trigger Speed] The camera comes with a 3 PIRs design and pre-activated technology, triggering in almost an instant 0.1s. It takes up to 5 continuous shots to capture more exciting moments.
[Super Easy to Use] The camera features hybrid capture (both photo and video), a 2.4" color screen, playback, time stamp, and password protection, with programmable operation hours. It operates on a regular SD card (not included) and 8 AA batteries (not included), making it easy to use and convenient.
Ultra Clear Night Vision: Sony Starvis sensor and nighthawk technology combined with exclusive image tuning algorithm, smart illumination technology, blur reduction to provide crisp and clear footage at night. No glow technology keeps your camera imperceptible at night.
Enhanced 32MP Still Image: The trail cam is equipped with an advanced large aperture optical lens, a group of well-designed infrared LEDs and features new generation of imaging technology to deliver higher resolution 32MP image.
1296p H.264 HD Video: Records amazing smooth 1080p or 1296p video with clear audio. Videos are well compressed in H.264 MP4 format (average ~1MB/s), significantly reduce file size, downloading and sharing to family or friends is more quicker than traditional game cameras. The MP4 video is also most compatible with any players.
GardePro is committed to providing high quality, reliable and affordable trail cameras.